You're probably asking yourself: "Is he really reviewing another virtualization product?" Yeah, I am. I guess it's a virtualization review special on TechButter. Like I mentioned in the previous article I am reviewing these products because I am unable to run them on my iBook due to it's limited resources. I realize there is a PC version of Parallels but I want to see how well the Mac version performs since I get the opportunity to play with a brand new Intel iMac for a week.
When you first launch the application you are presented with a wizard which gives you three choices. The first choice is "Windows Express." The description for that option says "Install Windows XP or Windows Vista in fully automatic mode." This option presumably is just like the option we found in Fusion when we installed Windows Vista. The other options are for "Typical" and "Custom" virtual machine configurations. Just like the other review, I will be installing Fedora Core 6 as well as Windows Vista. I want to compare the performance of the two products. I've heard a lot of good things about the performance of Windows Vista using Parallels virtualization and that is what we are going to start with, Windows Vista.
The settings wizard is a lot like every other virtualization product I have ever used. I suppose by now all of them are fairly standard in the configuration options. There was a neat effect when I started up the virtual machine, the screen flipped the settings window around and started up the virtual machine, as if the virtual machine were on the back side of that window.
Just like with VMware's Fusion, the installation of Vista in Parallels Desktop was successful without any problems and I didn't have to answer any questions until I got to the Windows Vista desktop, where there was a dialog box saying that once Parallel Tools is installed, Vista will need to be rebooted.
A good touch that the developers added to Parallels Desktop is that on the OS X dock there is a thumbnail of what is currently going on in the virtual machine. It's not a major feature but it is definitely a nice touch.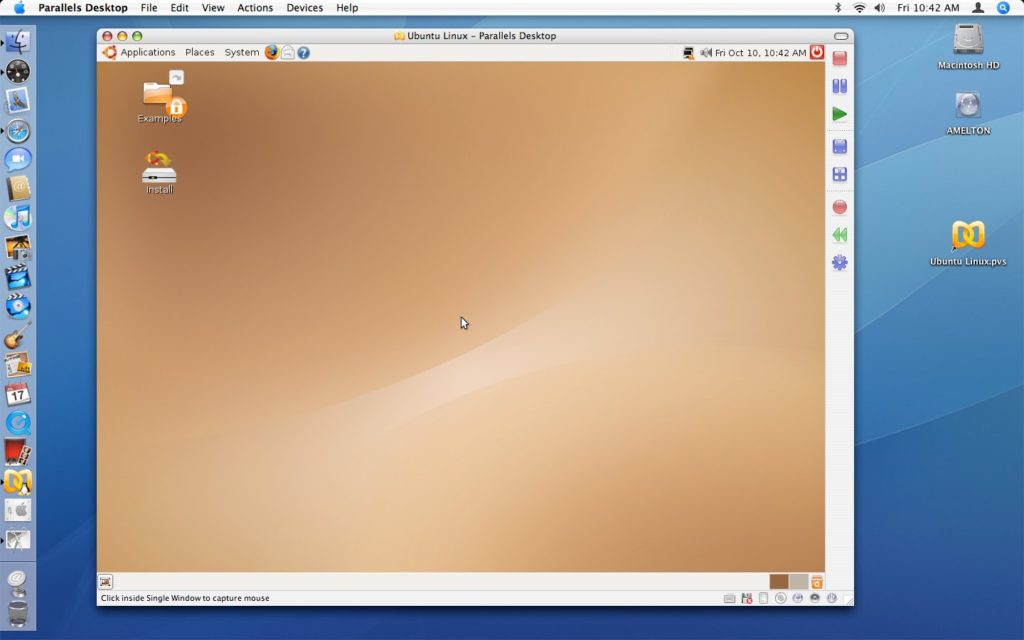 Once Parallel Tools was installed I noticed something that I did not notice when I installed Vista into VMware Fusion, when the system shutdown and rebooted the shutdown sound played and when the system restarted, the startup sound played as well. To me, this makes me think that the performance of Vista is going to be substantially better in Parallels than it was in Fusion. It most certainly appears that way.
I decided to look at the settings for the virtual machine and noticed that you can adjust the virtual machine's video memory. The maximum recommended amount of memory is 16 MB but you can take it up to 32 MB of RAM. Unfortunately 32 MB of RAM is not enough to use the Aero Glass feature of Windows Vista.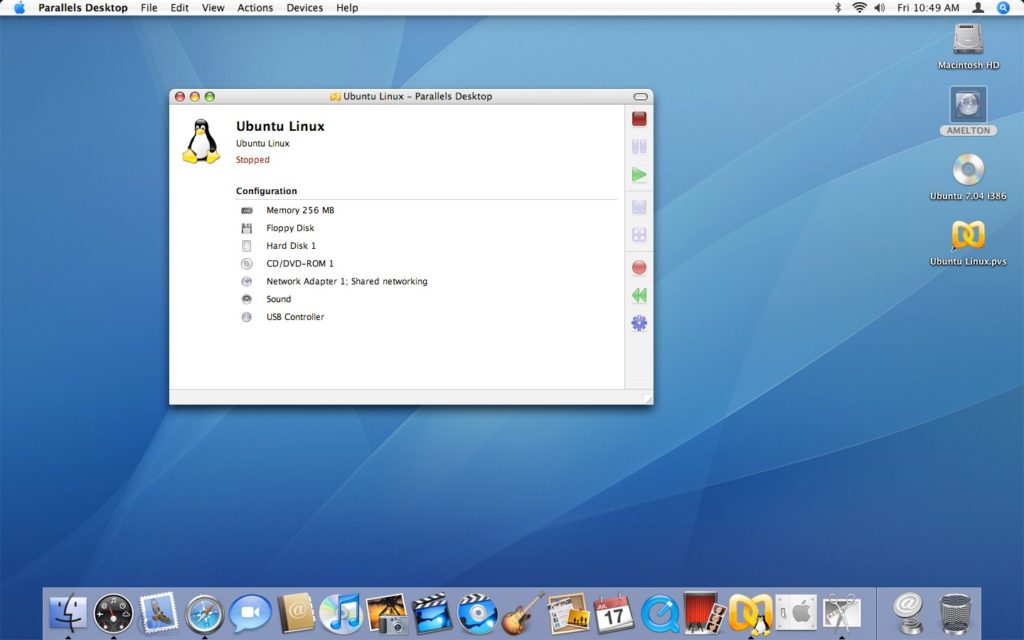 Parallels has a cool feature called Coherence. When you activate Coherence the background and desktop icons in the virtual machine disappear, so do the Parallels application windows. The Windows Start Menu is then displayed on your OS X Desktop. You can launch applications in your Windows virtual machine by using the start menu on your OS X desktop instead of opening the virtual machine window and launching the application. The application still has Windows borders, but, if you need Windows applications but also need access to your Mac applications at the same time, this is a great feature.
I have to say that I am extremely impressed with the performance of Windows Vista in Parallels over VMware Fusion. Although there are a lot of things that are sluggish, like starting a slideshow or using Windows Media Player, the operating system itself is actually pretty usable. When I had Vista installed into VMware Fusion I was unable to play with the Windows Media Center feature. I am able to in this installation in Parallels.
Another great feature of Parallels Desktop is that they have bundled Kaspersky Internet Security into their product. If you install a Windows virtual machine this will allow you to be keep your Windows virtual machine protected from outside threats, that is, if you get online with your Windows virtual machine.
Unlike VMware Fusion you also have the ability to take screen shots of the running virtual machine. However, there is no video recording option available. However, like VMware Fusion you have the option to share files and folders between your virtual machine and your OS X host machine.
If your virtual machine is growing in gigabytes you can use the Parallels Compressor to decrease the size of your virtual machines disk image. This runs disk cleanup and disk defragment utilities. Supposedly this can reduce the size of your virtual machine by 50%. A cool thing about Compressor is that it works with VMware Workstation, Microsoft Virtual PC and of course Parallels Desktop (both Mac and PC versions). Using this feature of Parallels Desktop my installation of Vista was reduced by several gigabytes.
If you have the BootCamp drivers, you can install all of the integrated hardware of your Mac into your virtual machine, such as the built in iSight camera which comes standard on almost all of Apple's new computers.
After I had got tired of playing with Windows Vista I decided to install Fedora Core 6 into a virtual machine with Parallels. I immediately appreciated the fact that the Parallel's developers felt as though Fedora was worth listing in their list of OS choices. Like I said in the VMware Fusion review, I know they can't list them all, but, I believe Fedora is popular enough that it should be listed.
When I got into the Fedora Core installation I was impressed that the Fedora Core installer detected the hard drive. If you remember from the VMware Fusion article and if you've read any of my tutorials in the past, you'll know that I have always had to make sure to change the virtual machine's hard drive from SCSI to IDE when using VMware products. Since Fedora Core was one of the options, I am absolutely certain that the Parallels developers made sure that everything would work.
Once I had got Fedora installed I had problems with the display resolution. It worked immediately after installation but when I would reboot I would only come to a text based login screen. I made some changes to the XORG configuration file and finally got into the GUI. However, when I would reboot again I would only come back to the text based login so I had to modify the XORG configuration file every single time to get into the GUI. I re-installed Fedora three times and got this every time. I won't blame Parallels nor will I blame Fedora since I honestly don't know who is at fault.
Even though I had problems getting into a graphical interface, the resolution that I was able to use was much higher than what I was able to use when I had Fedora installed into VMware Fusion. In Fusion the resolution would go no higher than 800×600, but in Parallels I was able to take the virtual machine into full screen mode using 1440×900, out of full screen mode the resolution would go well beyond that.
The performance of Fedora in Parallels was amazing compared to the performance I got in Fusion. Menus and applications opened without stuttering and seemed to perform a whole lot better as well. When you would move a window around on the screen it was actually a clean move and without flickering.
Another feature that I like in Parallels is the ability to clone an operating system. A similar feature is available in VMware Fusion and other VMware products called "Snapshots" which allow you to capture a guest machine in it's current state and revert back to it at a later time. It's basically the same thing in Parallels but I personally prefer the way Parallels has done it. During the cloning wizard you get to choose what to backup and where to back it up to.
One of the only feature requests that I would make is that they integrate a way to make video screen recordings. This should be a standard feature, especially if you are paying for the product.
If you can't already tell, I am extremely impressed with the quality of Parallels over VMware's Fusion. I really do like VMware's products, but seriously, Parallels has got them beat on performance. Although Parallels is $79 (for the Mac version) and VMware Fusion is free (for the moment), if you can spring for Parallels I would do it. They've put a lot of hard work into the application and it shows.
Article update: Wednesday, October 11, 2008: I have updated this article with screen shots from the latest version of this product. Please note that in the article I talk about installing Windows Vista but you are now seeing screen shots of a virtual machine running with Ubuntu 7.04 and only a Windows Vista login. I've been updating the screen shots on TechButter so that they look great with the new, wide theme.
There is still no video recording option in Parallels. For an $80 application I think this is something that should be standard.
As of writing this article update I have to say that I would recommend Parallels Desktop over VMware Fusion and VirtualBox. I think it works better and has a better feature set.